Podcast: Play in new window | Download | Embed
Subscribe: iTunes | Android | RSS
Welcome to Episode 008 of the #JPSPEAKS: Social Justice & Inclusion Podcast for Higher Education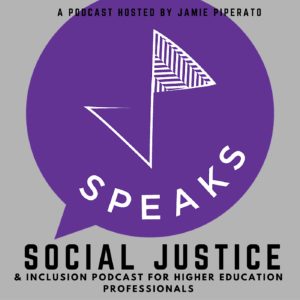 Professionals! This month, we had the honor of interviewing, Jake R. Goldblum.
Please note: Jake wants to recognize the internal diversity of all cultures including Judaism. No culture is a monolith and nuances are important to consider.  This conversation is about potential cultural/historical factors of a Jewish experience, not religious components. Jake speaks specifically from lived experiences internally and externally, as well as well as from training and research. These are perspectives not prescriptions.
Below, you will find the show notes, a biography on Jake and his call-to-action! Enjoy!
In this particular episode, you will learn:
About Jewish Identity Development
About the historical and cultural components of being Jewish
About a few practices that Jake utilizes in his own work
About various resources for higher education professionals
Please note: This episode does not cover the religious experience of being Jewish.
Jake R. Goldblum's Biography & Contact Info: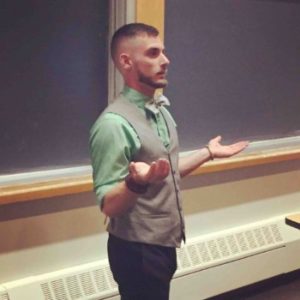 Jake (he, him, his) is a Student Affairs professional with a background primarily focused on counseling and social justice. Jake has used his experiences with his intersecting identities to build alliances for the process of continuing to dismantle oppressive systems for the past 5 years. Jake currently works in Residential Services at Worcester Polytechnic Institute and travels the country as a consultant, educator, and activist. He loves to read, exercise, and watch Netflix documentaries!
Jake can be reached on Twitter or Facebook or Instagram (@jgold023).
---
Show Notes:
Call-to-Action:
"Go out and read one of the resources listed [see show notes] and do the work without looking for the recognition." -Jake R. Goldblum
What is your reaction to the above call-to-action? What conversations or thoughts have you had as a result of the above call-to-action? In order to build community around these challenges, share your reactions and accomplishments on your social media accounts by using #JPSPEAKS!
*IF NEEDED, A PDF OF THE AUDIO TRANSCRIPT CAN BE CREATED FOR YOU BY EMAILING INFO@JAMIEPIPERATO.COM (PLEASE ALLOW 7-10 BUSINESS DAYS FOR THE CREATION OF THIS FILE)!