Podcast: Play in new window | Download | Embed
Subscribe: iTunes | Android | RSS
Welcome to Episode 007 of the #JPSPEAKS: Social Justice & Inclusion Podcast for Higher Education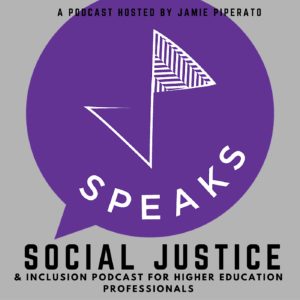 Professionals! This month, I had the honor of interviewing, Lynn Carroll! Lynn is a higher education professional who now works as a career coach. A more in-depth biography can be found here.
Below, you will find the show notes, a list of ways to contact Lynn, and Lynn's call-to-action! Enjoy!
In this particular episode, you will learn:
Important tools and resources to help students navigate the job search process
About Lynn's experience identifying in the LGBTQ community as a professional
What does it mean to look at/identify core values?
Lynn Carroll's Contact Information:
Show Notes/Resources:
Career development resources for LGBTQ communities and others with marginalized identities
Out in the World: Securing LGBT Rights in the Global Marketplace
Center for Talent Innovation, @TalentInnovate (hashtag #outglobal)
30% of employees who are out in their professional lives still "cover," meaning they downplay their LGBT identity.
72 percent of respondents who self-identify as LGBT allies say they are more likely to accept a job at a company that supports equal opportunities for LGBT employees. (Center for Talent Innovation, 2016)
53 percent of LGBTQ workers in the US hide who they are at work.
Human Rights Campaign Foundation, @HRC
GLAAD, @glaad

"Talking about Inclusive Employment Protections"

"The new civil rights begins with the observation that everyone covers… Because human beings hold many identities, the mainstream is a shifting coalition, and none of us are entirely within it. It is not normal to be completely normal." -Kenji Yoshino, Chief Justice Earl Warren Professor of Constitutional Law, NYU School of Law.
"83 percent of LGB respondents in our survey reported covering; 79 percent of blacks (both African Americans and non-nationals); 66 percent of women." -Kenji Yoshino, Chief Justice Earl Warren Professor of Constitutional Law, NYU School of Law.
"More than 35% of two-spirit and American Indians/Alaska Natives (AI/AN) transgender people report having lost a job because of their gender identity."
The Highly Sensitive Person (HSP)
The Quiet Revolution (resources include the book "Quiet: The Power of Introverts in a World That Can't Stop Talking" by Susan Cain)
Call-to-Action:
"Find a way to meet someone with a different identity than you, where they are and ask them about their experiences!" -Lynn Carroll
What is your reaction to the above call-to-action? What conversations or thoughts have you had as a result of the above call-to-action? In order to build community around these challenges, share your reactions and accomplishments on your social media accounts by using #JPSPEAKS!
*IF NEEDED, A PDF OF THE AUDIO TRANSCRIPT CAN BE CREATED FOR YOU BY EMAILING INFO@JAMIEPIPERATO.COM (PLEASE ALLOW 7-10 BUSINESS DAYS FOR THE CREATION OF THIS FILE)!